Isaac Paul Rader (1906-1986)
Biography by Lynn Munroe
Please visit
http://www.lynn-munroe-books.com/
Unjustly forgotten today by the art world in general, but still treasured by a die-hard band of vintage paperback collectors, the American artist Isaac Paul Rader was born in Brooklyn, New York in 1906. Only his mother called him Izzy. To every one else he was Isaac, or Iz, or Paul. Paul's father was a master carpenter, a woodworker who moved from town to town depending on where the work was. The Raders moved to Mt. Vernon NY, then to New Rochelle NY, then to Toledo Ohio. It was in Toledo that young Paul became an artist. Very early on he showed a gift for realistic portraiture, and at age 16 he became one of the youngest artists in America to have an Art Museum exhibit of his paintings. The Toledo Museum of Art, a few blocks from the Rader home, was his first showcase. He also had paintings chosen for museum Art Society shows in 1920, 1921, 1922, 1923, 1924 and 1930. One of the paintings cataloged, "The Carpenter" (also known as "Working"), a portrait of the artist's father, won first prize at the 1921 Art Show. Sadly for us, nobody at the Toledo Art Museum had the foresight to purchase any of the paintings, and today there are no Raders in their collection.

When Rader's father was called to Detroit to work for the Ford Motor Company, Paul stayed in Toledo and lived with his sister. (You may wonder why a woodworker was hired by an automaker; the family story has it that he worked on wood paneling for the Ford "Woody" station wagons.) Paul later moved to Detroit and set up a studio in his parent's attic. He may have attended classes at Wayne State University, but he did not graduate. He no longer had any time for college; he was getting work. Rader became a successful portrait painter in Detroit, painting many well-to-do local residents including judges and lawyers. Supposedly there once were Rader portraits hanging in the Michigan State Capitol building, but if that is true they are no longer there. A state employee was kind enough to check their listings, and although there are no Raders in the Capitol he did find Paul Rader's name on a list of Michigan artists who have portraits on display around the state. Rader paintings of judges hang (or at one time hung) in various law libraries and law offices in the Detroit area.


TRUE DETECTIVE OCT 1961 – COVER BY PAUL RADER


After studying painting in Europe for a year, Paul Rader was married in Detroit in 1931. He was 25. His wife was from a Philadelphia family, and they moved to Philadelphia, where Paul set up his next studio and found work. When they were divorced in 1940, Paul moved to New York City.

Paul met and married his wife Edith in Manhattan in 1942, during what Edith calls "the whirlwind era of early WWII". He did Citizen's Prep welding work until the war ended in 1945. After the war Rader went back to work as a full time artist, painting portraits but now getting more and more commercial work as an illustrator. Paul and Edith had their daughter Elaine to support, and Rader must have found the magazine work more lucrative than his large canvases. He did advertisements for Sharp & Doane Drugs, for General Electric kitchens, for Lovable Bras. His illustrations for such magazines as REDBOOK and FAMILY CIRCLE began appearing around 1950. He did a one-year series on children for REDBOOK, painting from photographs he received permission to take at a local nursery school.

"He could accomplish anything he tried with his hands", Edith Rader told me. "He was extremely adept with his hands, a mechanical genius. I believe he inherited that trait from his father. Paul designed furniture and his photography appeared in HIGH FIDELITY Magazine. Even late in his life he could draw a straight line on a wall, never needed a ruler."

Rader's agency for the early ads was Lawrence Studios. The models he used were always from agencies like Ford. One of them was Janice Cooper, who met her future husband Guy Williams on modeling assignments like the ones they did for Paul Rader. Edith remembers an ad where Janice and Guy were supposed to be a sunny summer couple in a convertible. It was photographed in a freezing garage in the New York winter. The two couples became friends and Edith was sorry when Guy and Janice moved to California, where Guy wanted to give up his successful modeling career to try acting. Guy did all right for himself as an actor in Hollywood, playing ZORRO and starring in LOST IN SPACE.

Rader's decision to change agents and go with the Balcourt Art Service in 1957 is a turning point in his New York career. After 1958 there is a much greater preponderance of Rader material suddenly available, including many illustrations for men's magazines like SWANK and BACHELOR, and paperback covers for Gold Medal, Ace, Pyramid, Berkley and Midwood.

Coming from his background in advertising and illustration, Rader tried to make his covers fashionable. But Midwood did not want their covers to be fashionable, just eye-catching and beautiful. Balcourt described the kinds of covers he supplied by genres, like "Westerns" or "science fiction" or "sexy", and Rader quickly became one of the greatest of the "sexy cover" artists of that era. "He had the ability to create a desirable woman on canvas", Edith Rader said. And it was this ability that led to his success at Midwood. Rader's work was not like the gloomy or abstract covers painted by some of his contemporaries. "His idols were Petty and Vargas. Paul loved George Petty's formula for turning each woman he painted beautiful. But Petty's girls were sometimes anatomically impossible, if those legs were real they would be 9 feet tall. Paul was more of a realist."

His quick, realistic take on such fantasy subjects as dreamy blondes and sultry redheads distinguishes him from the pack. Many of the books Rader did covers for are collected today not for the book at all but only for the cover. His sexy Midwoods are each little tiny pocketsize works of art. Rader continued to turn out Midwood covers throughout the sixties, elevating the paperback cover to classic pin-up status.

His wife Edith was the administrative secretary to the Director of Surgery at St. Luke's Hospital in New York City. When Paul Rader collapsed in 1967, they thought it was a heart attack and rushed him to St. Luke's, where Edith's bosses gave him the best of care. When they operated on him, they found nothing wrong with his heart. His illness was a stomach tumor and he recuperated slowly, not working for a year. He gradually went back to work, but never again at his earlier pace. He did a few last covers for Midwood, and recycled some of his Midwood covers for Bee-line. He retired in 1970, moved to Monroe NY, and never looked back, never did another paperback. He enjoyed working at a more leisurely pace at his studio there, painting portraits and teaching Adult Education classes. When Edith retired, they decided to move to Florida in 1984 to be closer to their daughter. Paul Rader spent his last two years in Ocala, where he died in 1986. He was 79, just shy of his 80th birthday.

OBITUARY – TOLEDO BLADE, JUNE 26, 1986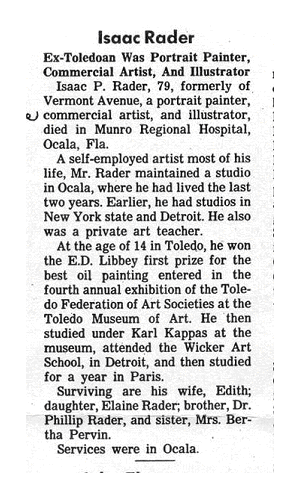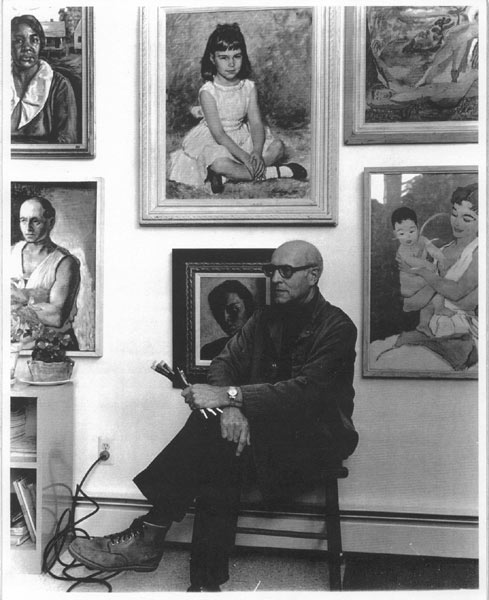 PAUL RADER
From "Catalogue of The Temporary Exhibitions of November & December 1922 at the Toledo Museum of Art:"

ISAAC RADER Isaac Rader, the youthful winner of the first prize in the Toledo Federation of Art Societies Exhibition held at the Museum in 1921, is but sixteen years of age and his received all of his art education in Toledo.
He is, in a way, a protégé of the Museum in that some six years ago
he became interested in the study of art through his visits to the Museum and has worked in many of the drawing and design classes offered since that time. His work shows great talent, he has made rapid progress and shows great promise for the future.
His family and neighbors act as models for many of his paintings, and The Carpenter, for which he received the Libbey Prize in 1921, was posed by his father. This picture is number 184 in the catalog.

PAINTINGS BY ISAAC RADER
171. THE APPLE TREE
172. THE RED BARN
173. A SKETCH
174. AUTUMN
175. LANDSCAPE
176. STILL LIFE
177. STILL LIFE
178. A STUDY
179. HEAD
180. STUDY - HEAD
181. STUDY – HEAD
182. FISHERMAN'S COTTAGE
183. THE NIGHT WATCHMAN
184. THE CARPENTER
185. STUDY
186. WASHING
187. PREPARING DINNER
188. AT THIRTEEN
189. SAD NEWS
190. PORTRAIT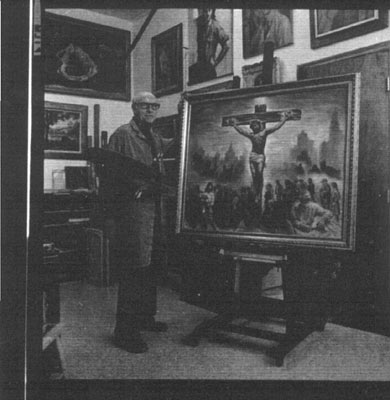 The photographs shown here courtesy of Edith Rader are of Paul Rader at his studio in Monroe in the 1970's. The painting he was working on was a commission. It portrays Christ on the cross as a group of modern-day city dwellers walk by in ignorance. One young mother has turned to look back at Him. Edith believes the painting is now at a Catholic Church in Newburgh NY.
ACKNOWLEDGEMENTS This biography is curtesy of Lynn Munroe whose interest and work makes this biography posible and together we express our appreciation and acknowledgement to Robert W. Rutherford, Robert Speray, Lance Casebeer, Chris Eckhoff, Mark Goodman, Ron Blum, Andrew Jensen, Tom Lesser, Rose Idlet, RC & Elwanda Holland, Tony Jacobs, Jaye Zimet, Julie Ellis, Edward Balcourt, Gil Fox, Donald E. Westlake, Pandora's Books, Rachel Parker-Stephen, Joy Thomas, Leslie K. Swigart, Michael Ryan at the Toledo Museum of Art, Rudy Nappi, Clem Micarelli, Victor Olson, and Robert Maguire. This catalog could never have happened without information from Edith Rader and Lauren Turner.