Paul Rader in Retrospective 2010
In Retrospective is by Lynn Munroe
Please visit
http://www.lynn-munroe-books.com/
When I published the Paul Rader catalog back in 2003, it was the first attempt anyone had made at a Rader checklist. As I wrote then, it was created as a work in progress. There will be no definitive, authorized checklist (his papers, notes and paperback cover proofs were destroyed after his death), so we have to piece together as much as we can. Since the Rader catalog was my first online list after doing printed mailed catalogs for 20 years, I purposely put a few questionable covers on that 2003 list, hoping that someone would see them online, come forward and say 'That's not Rader, that cover was done by my father, Joe So-and-So". That hasn't happened.

The books with cover art signed by Rader are easy, but some of the unsigned Midwoods are just guesswork. I doubt that any of the covers like Midwood F324, SO EAGER TO PLEASE are by Rader, but the real artist remains unknown. Some of the later covers on my checklist, from the period when George Alvara was doing Rader-style art, are more likely Alvara (see Midwood 34-151 , TEACHER'S PET / PRIVATE LESSONS). But I still have no information about Alvara.

One of my first sources for information about Paul Rader's career was Ed Balcourt of Balcourt Art Service. Balcourt read over the Rader catalog again recently and gave us some additional insight: .

" What I did was get accounts for my artists by showing samples of their work to various publishers and getting them started in the field. Also being an artist myself, I was able to guide them and teach them composition, where to place the main subject on the cover or magazine illustration, leaving area for the title and author, etc. My studio also did the graphics for Midwood and various other publishers. The only reason Paul left my studio was because I only carried him, after awhile, on one account ( Midwood ) and it was my doing to have him work for Harry Shorten directly; since they had a low budget there wouldn't be any advance for him. Besides they were able to keep him busy every month. I had enough artists to handle – at one point over 100 of them - and was constantly training other new artists to enter the field.

As an Artist's Representative, Ed Balcourt was a pioneer in the field of paperback cover art, encouraging publishers to change from letterpress to photo offset and getting incurred expenses back for artists so they could do better work with all expenses billed to the publishers.

"There where times on some small accounts that an artist wasn't able to take an assignment for some reason and I wasn't going to give the cover assignment back, so I did it myself in the evenings at home and delivered it under an assumed name, except for a few jobs that had my name on it that I see sold by auction houses on the internet. "

Over the past 5 years, many other Rader covers and magazine illustrations have come my way. I heard from Paul Rader's daughter Elaine, who told me she is the little girl in the painting behind Rader in the photograph we have of him in his studio. I heard from his late brother's son-in-law, who had a couple Rader paintings for book covers in his collection. One of them was not on my catalog, and I was unfamiliar with the book, but I showed it to my friend, Brooklyn bookman Chris Eckhoff, who I suspect has seen every paperback in the world, and Chris recognized it as the cover painting for Beeline 433-Z, a book called 3-FOR-ALL by D.W. Masters.


| | |
| --- | --- |
| Beeline 433-Z | original art, courtesy of Herschel Fink |
I thought I had shown all of the covers Rader did for All Star Books, where he re-used covers from Midwoods, but another one later tuned up on eBay. All Star AS116, THE POWER AND THE PASSION by Peter Kevin, re-uses the cover art from Midwood F245, THE SEX PLAN. Rader's "R" signature is clearly visible.
| | |
| --- | --- |
| All Star AS116 | |
Somebody sent me Midwood 167, SEX BEFORE SIX by Jason Hytes, because they thought that hard-to-read artist's signature said "Rader", but actually it says "Minney". The prolific Bruce Minney did hundreds of magazine illustrations and some paperback covers as well, including this Midwood and four or five Tuxedos. In the course of researching an upcoming catalog, I interviewed Minney about his men's adventure magazine illustration for Martin Goodman's publishing empire, and I took that opportunity to ask him about Midwood as well. But Minney did not recognize any of the unsigned Midwoods as his own, and SEX BEFORE SIX is the only Midwood Minney I've verified so far.
One of the Rader Midwoods on our checklist that I did not have a copy to show back in 2003 was 32-494, THE BEAUTY GAME by Emory Paine . The cover is a lesbian version of one of Rader's favorite themes: a beautiful scantily-clad woman is being admired by a seated observer. Many of his covers deal with the object of desire.
And of course there were later unsigned Midwoods that turned up in the ensuing years, most often on eBay, which remains a valid source for obscure paperbacks. I think all three of these are Paul Rader covers: 34-163: BLONDE ON A BLANKET by Edward McCallin, 34-695: CAMPUS PARTY by Joan Ellis/ TEMPTING TEEN by J.C. Comstock; and 35-934: THE SEX BETWEEN and WHEN LADIES LOVE by Jason Hytes.
34-813: COLLEGE GIRL by Stephen Kane/ DARING COED by Frank Graham was on the checklist but not shown.
Tower 43-748 CATHY'S WAY by Dan Brennan (not shown) reuses the Rader cover art for Midwood F190. THE CRAVING.
Last year I had an opportunity to visit the home of my friend Art Scott, author of THE PAPERBACK COVERS OF ROBERT McGINNIS, an indispensable book that you should own if you love paperbacks. From Art's collection here are two books I listed but did not show: F323 JUST THE TWO OF US by Barbara Brooks and 34-940, HER FIRST TIME by Joan Ellis, and a third book not on the checklist: 35-196, THE OTHER WAY by Robert Hadley/ STRANGE FASCINATION by Greg Hamilton.
| | |
| --- | --- |
| | |
And then there's Midwood 45, TWO OF A KIND by Orrie Hitt. This cover had never been attributed to Rader, but as I prepared the 2003 catalog I included it as a possible Rader, mainly because he was doing so many of their covers during this period. Researching some Berkley paperbacks (another publisher Rader did some memorable covers for), I noticed similarities between the covers of Berkley G-185, WICKED WOMAN by Fred Malloy, and Midwood 45. Both covers feature a man and woman on a bed in a room with a red background. The man is stripped to the waist and wearing pants. The woman is wearing a see-thru shortie nightgown with little bows on it and high heeled shoes. She appears to be the same model. On the Midwood cover he has a hotel towel draped over his torso. The Berkley with its boudoir table does not specify we are in a hotel room, but we could be. If TWO OF A KIND from 1960 is Rader, and I suspect it is, then WICKED WOMAN, from 1958, could be a Rader too. (For comparison purposes here is a scan of TWO OF A KIND from my 2003 Rader checklist.)
| | |
| --- | --- |
| | |
The uncredited cover art on the obscure British paperback DEVIATION, K&G nn, 1967, is familiar to Rader Midwood collectors as SECRET SESSION, Midwood 35-527. I would bet that Rader never saw this book.
The last book on my 2003 checklist was Beeline 481-Z, HORNY HOUSEWIFE by Kelly Mack. At that time I had never seen this obscure 1970 paperback original, but now here is a look at both the front and back cover. Rader's "R" signature is visible on the back cover only.
Magazine illustrations by Paul Rader have continued to show up on eBay. My favorite eBay seller of back issue magazines is American Art Archives, because they take the time to let you know which artists appear in the magazines they offer at auction. For a researcher, this saves countless time and trouble. I can't recommend them enough, and I encourage you to check out their brilliant eBay auctions, and their website:
http://www.americanartarchives.com/
American Art Archives discovered a Paul Rader illustration for Hearst's AMERICAN WEEKLY (March 7, 1948, not shown), two years before the earliest Rader magazine appearance I could find. They also found Rader art in FAMILY CIRCLE for January 1951. (not shown)
I bought the men's adventure magazines that follow from American Art Archives and other eBay back issue magazine sellers. MAN'S WORLD (June 1958) includes "The Blonde Who Started a Gang War" by Richard Deming, highlighted by this memorable Paul Rader illustration: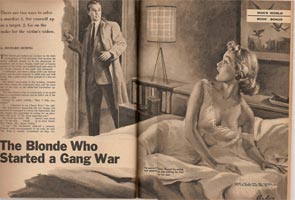 KEN FOR MEN (Jan 1959) includes "Hungary's 20,000 Captive Call Girls", credited to Walter Wager on the table of contents and Michael T. DuBois on the story itself. Here is Rader's black and white illustration: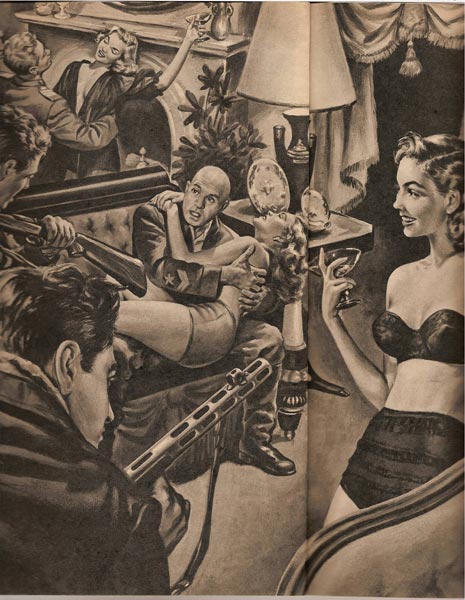 MAN'S LIFE (Feb 1959) has "The Man-Hungry Hatlo Sisters That Terrorized the West" with art by Rader: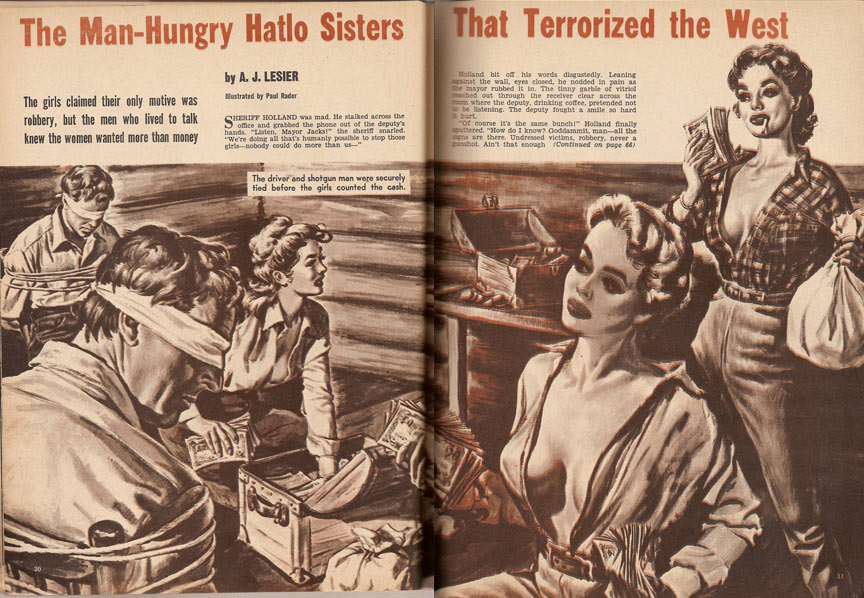 The August 1959 issue of ACTION FOR MEN includes Paul Rader's illustration for "Dr. Koo and his Park Avenue Geisha Spies".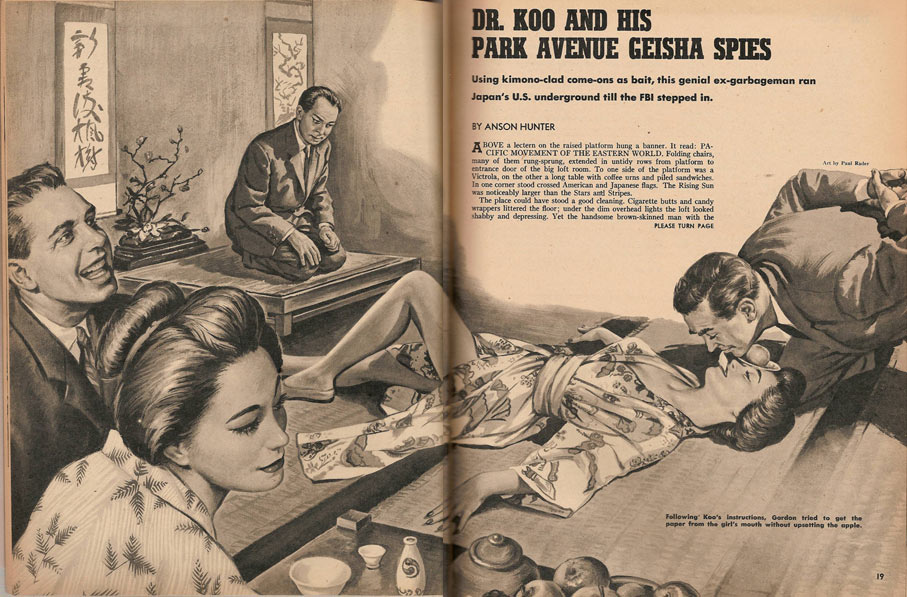 None of the illustrations for the August 1959 issue of MAN'S LIFE are credited, but I believe "The Gambling Madam and her Strange House of Chance" is illustrated by Rader, established as a MAN'S LIFE illustrator with his credit in their Feb 1959 issue. The middle woman of the three in the illustration is a match for a figure in Paul Rader's paperback art for 21 GAY STREET, Midwood 55 (1960). The art department at Midwood cropped off her feet, but when Rader recycled the art for Beeline 235, FORBIDDEN WOMEN, his entire painting was shown, and her feet match this MAN'S LIFE illustration. (For comparison, Rader's cover for Beeline 235 from my Rader checklist is shown here next to the MAN'S LIFE illustration.)
FOR MEN ONLY (Oct 1958) includes Rader art for "John J. Malone's Switching Blonde" by Craig Rice. (not shown)
Another fine source of back issue magazines has been destinymags, formerly a book & magazine store in Bellflower CA, now a recommended eBay seller. My friend Paul Hugli at destinymags turned up this rare Rader illustration in the March 1960 issue of SEE: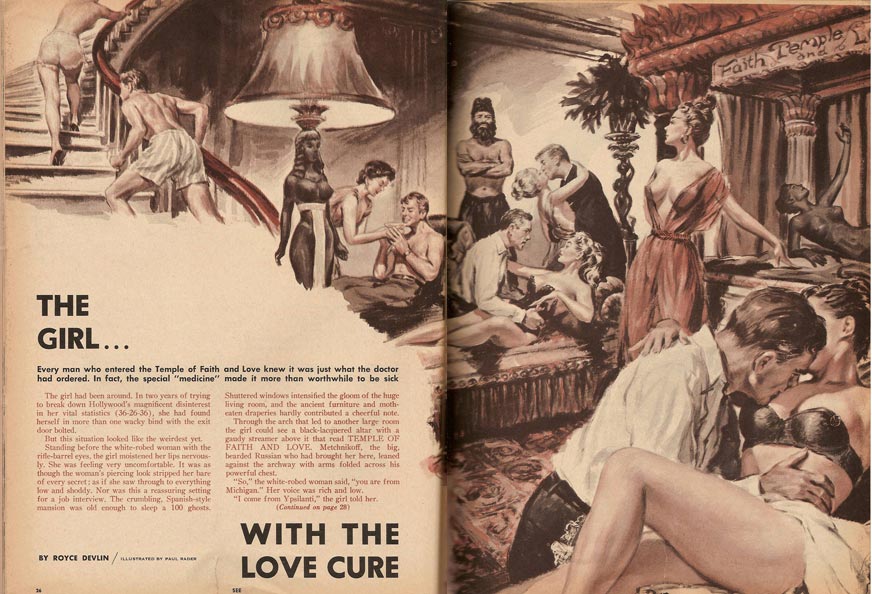 While I was researching the Rader catalog I saw a piece of Rader original art on an auction house website. The magazine appearance was unknown, so I held off on showing it until I could verify where it appeared. Once again , destinymags came through. This is Paul Rader's "Demon Doctor of Ravensbruck", a dynamic nudity–and-horror illustration from REAL (June 1960):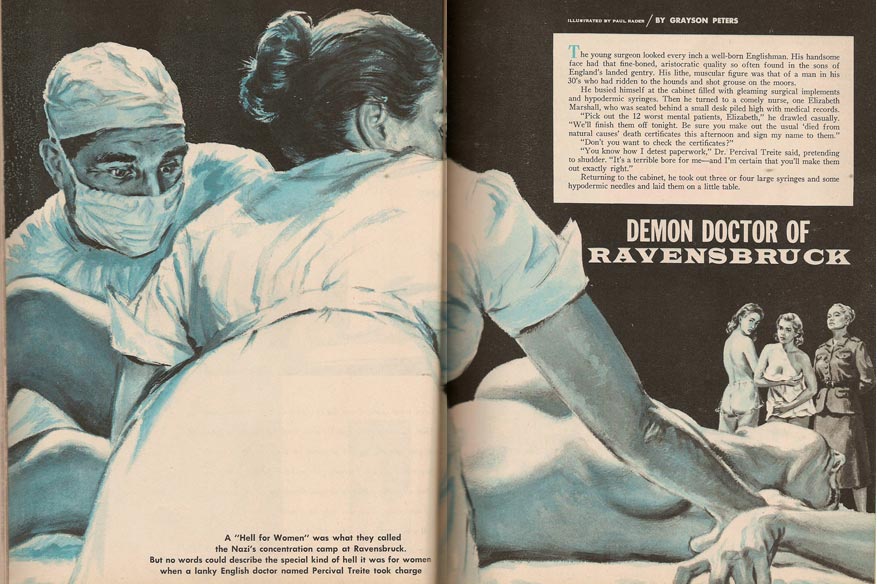 Rader used the blonde on the cover of Midwood F95, GAY INTERLUDE (1961), again that same year. She also appears in his illustration for "The Need" in the February 1961 issue of MAN'S. (Pyramid published MAN'S, and they recycled everything they could in GUY magazine a few years later. "The Need" also appears in the October 1965 issue of GUY.) Note that although she is one half of a lesbian couple on the Midwood cover, she's with a man for the men's magazine illustration. Rader recycled the Midwood cover again seven years later for Private Edition 457, THE SEXECUTIVES by Ed Wood Jr writing as David L. Westermier.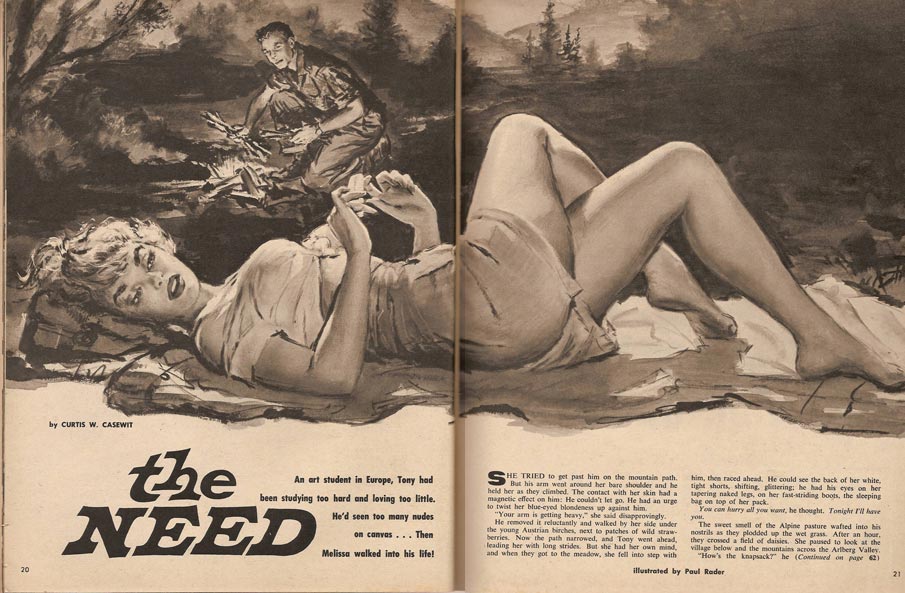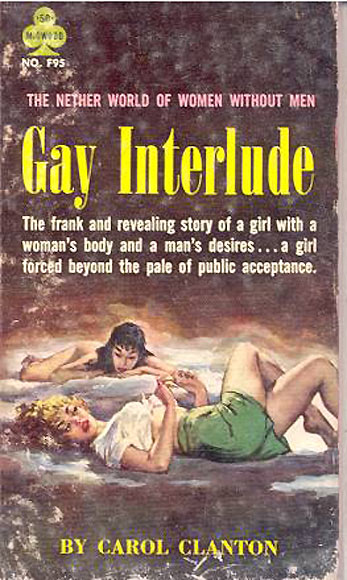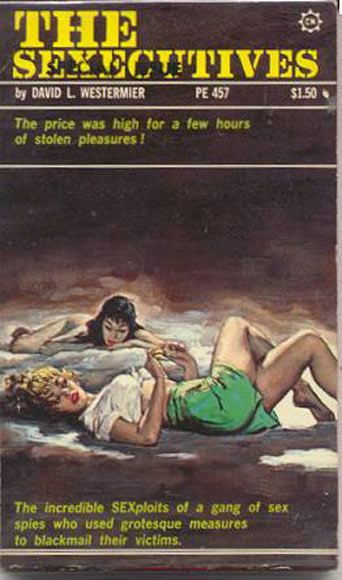 Another recommended eBay seller, dnocbooks, turned up a beautiful pin-up style Rader illustration in the March 1961 issue of REAL ADVENTURE. This is "Dr. Reich's Wonderful Sex Machine"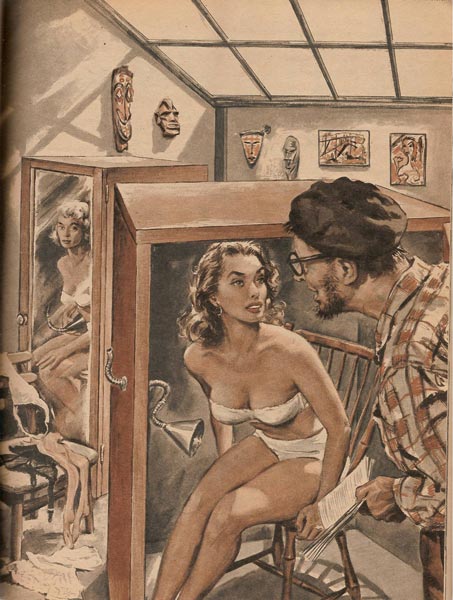 The ever-resourceful Brian Emrich showed up at a party before the LA Paperback Show last year with a picture of Rader original art I had never seen. Rader's signature was clear, but there was no indication of where it appeared. Brian came to the right place, because our friend Gary Lovisi was also with us, and Gary remembered the art was used for the November 1962 cover of MIKE SHAYNE MYSTERY MAGAZINE . Thanks to both Brian and Gary for adding another Rader cover to our checklist::


In 1967, MAN'S tried a short-lived men's mag called WAR. Rader's Midwood 41 art, previously reused for GUY December 1963, appears here again for the story "Fannie Mae".(not shown) Although neither one is credited, Paul Rader recycled two of his Midwood covers for the January 1968 issue of MAN'S. "Gringos – 24 Hours in a Mexican Sintown" reuses Midwood F163, THE DRIFTER. "Encounter on the Beach" recycles the bottom half of Midwood 32-465, PAGAN SUMMER by Dallas Mayo. Rader has worked a neat trick here, for PAGAN SUMMER is a lesbian story. By cutting off all but the lower legs of the woman standing over the bikinied blonde, he has now illustrated this story about a man and woman meeting on a beach. For all we can tell it could be a man standing there, and in MAN'S world, unlike Midwood's , it is a male.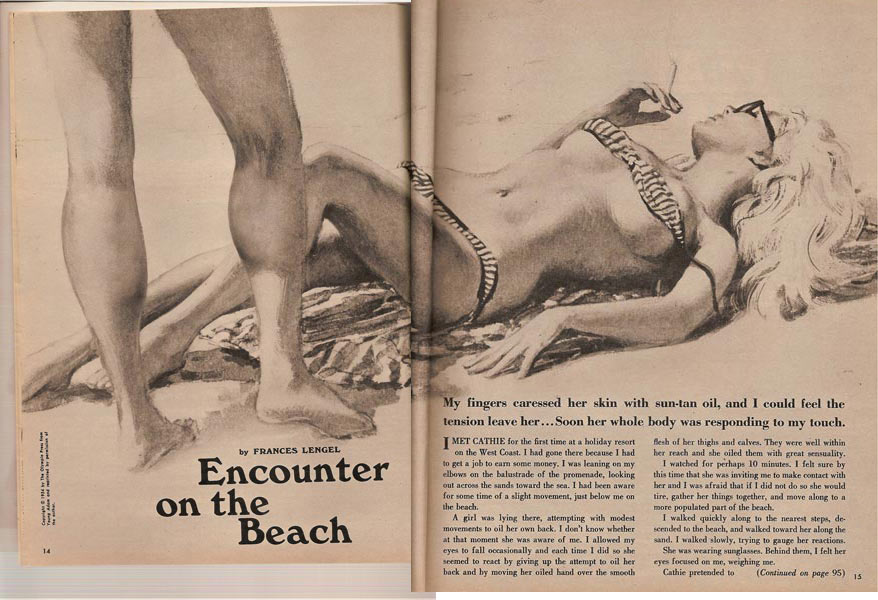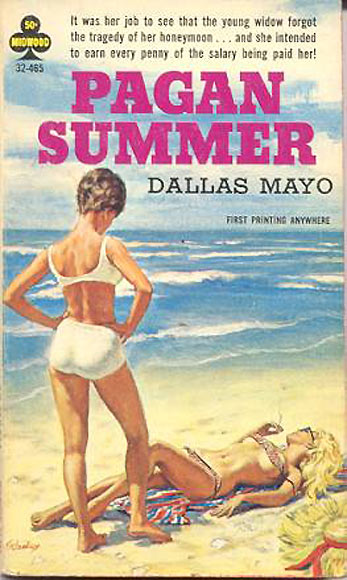 Rader continued to recycle Midwood covers for MAN'S in 1968. The March 1968 MAN'S small secondary illustration for the story "The Deadly Affair" by Anthony McCall reuses Rader's NUDE IN A RED CHAIR cover from Midwood F336. In the same issue, "Swinging Coed" reuses his cover for Midwood 32-482, ASK ME NO QUESTIONS.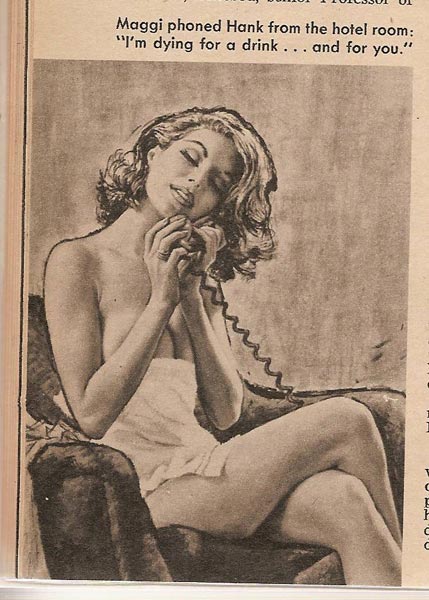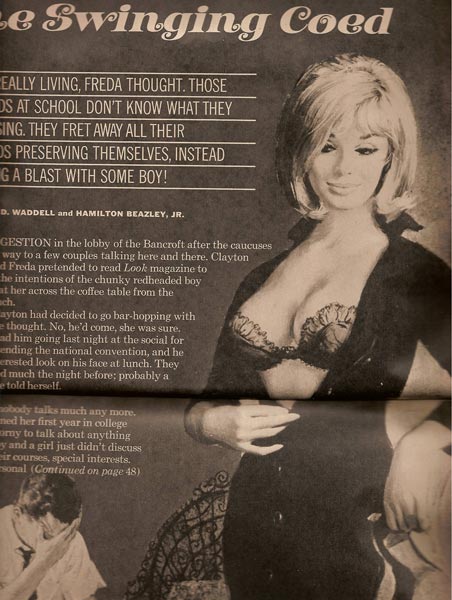 The April 1968 MAN'S story "Warriors and Women" (not shown) reuses Rader's cover painting for Midwood F199, THORN OF EVIL. The August 1968 MAN'S (not shown) features Rader art for a story titled "Caught in That Music" It is a retouched version of Midwood 32-437, MISS DREAM GIRL. The November 1968 MAN'S (not shown) reuses the cover for Midwood 45, TWO OF A KIND, offering another confirmation that this unsigned Midwood must be Rader. Another Rader image that MAN'S / GUY liked to recycle was the cover art for NITA'S PLACE, Pyramid G525. They used it again as a small corner illustration for "Some Joke" in the January 1969 issue of GUY. (not shown)

Paul Rader's cover art for Midwood F163, THE DRIFTER, used for an interior illustration in the January 1968 issue of MAN'S shown above, was reused as a black & white interior and for the color cover of GUY (April 1970). And as we showed above with his last book cover (Beeline 481-Z), 1970 was Rader's last year as a commercial illustrator.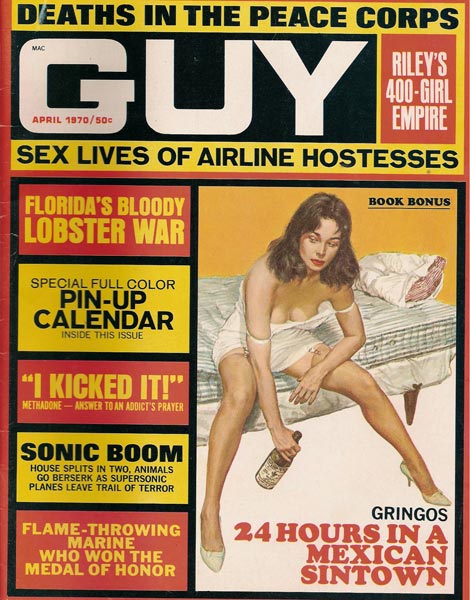 When you go the website www.askart.com and look up Paul Rader, it says "Paul Rader was the 1960s heir to the American art form of Charles Dana Gibson, Petty and Vargas."
It made me smile to find that there, because I wrote those words for my Rader catalog. ILLUSTRATION Magazine published a version of that research, and Ask Art.com cites that ILLUSTRATION article, and quotes from it, on their site. And so Paul Rader's brilliant work lives on for a new generation of Internet users.
Rader original art collector Brain Emrich owns this unidentified painting.
Let me know if you know where it was used: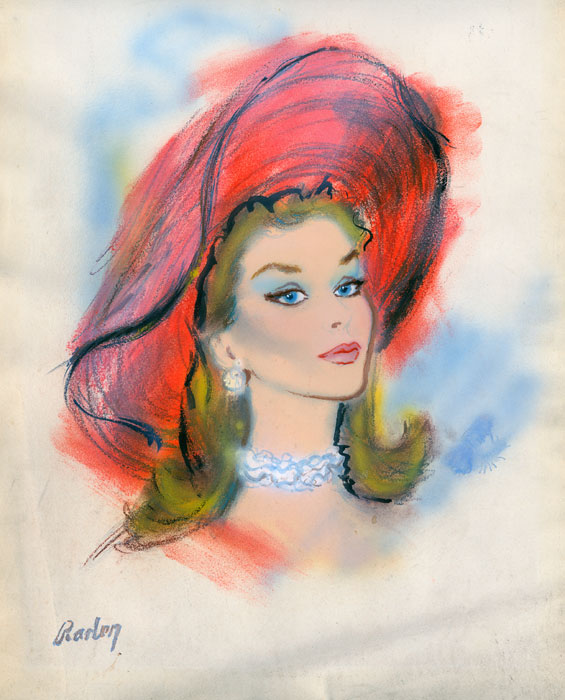 Back to top